Our products are of the highest quality. To order any of our products, visit our online store or contact us direct at (281) 593-9237.

La2pu Dried Mangoes Enjoy the exotic flavor of ripe mangoes in every La2pu Dried Mango pack. With the exceptional taste, it truly is the company's pride. Each slice is made to perfection, packed with tropical flavor that is nutritious and satisfying! A perfect snack anytime, anywhere!
From the exotic fruit of the highest quality, dedicated to the sophisticated palates of our consumers, La2pu Dried Green Mango was conceptualized. It has a distinct fresh, tangy, and tropical taste and aroma that is evident in every pack. Each slice will give you a tropical and interesting experience that will make you crave more.

A healthy snack with a chewy feel and sweet flavor. Savor the delectable goodness of real coconut with La2pu Dried Coconut. The fullness of its flavor is captured in its intense and quality and safety. An excellent treat to enjoy anytime of the day.

A mixture of diverse flavors with an exciting blend, La2pu Mango Tamarind takes mango and tamarind fusion to a richer dimension! You will surely enjoy the burst of natural fruit flavors that comes in every pillow pack. It is a perfect treat for the whole family, whether at home or on the go!
Seasonal! Delight in the ethnicity and striking flavor of La2pu Dried Melon. Its unique flavor and taste is seize to perfection making it irresistibly tempting once opened!

An all time favorite, La2pu Mixed Fruits, is a cocktail of dried tropical fruits that allows one to experience the colors and the flavors of the sweet-sour taste and mouth-watering appeal of the fruits in season. It's pleasant and tasty mixture makes it an ideal snack for all!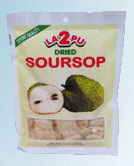 Soursop
is a close relative of the Sugar Apple, and they have a sweet and tart custard-like pulp. The fruit are typically heart shaped, and weigh up to ten pounds. They make superb milkshakes, but can be eaten fresh or dried as well. Soursop is beginning to be recognized for its medicinal qualities.